Profile 

Whitby Seafoods is an independent private company, founded in 1985, employing 140 people in the North Yorkshire fishing port of Whitby. Specializing in frozen seafood coated in batter and breadcrumbs, the business processes up to 3300 tons each year and realizes an annual turnover of over £15 million across the UK in both food service and retail sectors.
Background
Whitby Seafoods had been growing rapidly and despite acquiring Middleton Seafoods in 2007, the business was struggling for capacity to meet the projected sales growth.  There were also some issues with production planning and raw material yields.
Methodology
B&N Europe undertook a detailed assessment of the plant and the planning processes. From this they ran a series of three workshops with groups from the production lines. Each workshop solved different problems which were limiting yield. Their "See one, Try one, Do one" approach meant that the factory CI champion was fully trained and has continued to deliver results using the B&N Europe methods. Factory output has improved from around 600kg / hour to an average of over 750kg per hour and, with the improved planning, periods of 900kg / hour have been achieved. Yield improvements of between two and five percent have been delivered. As well as significantly increasing sales and margin this project has allowed a rethink of capital expenditure.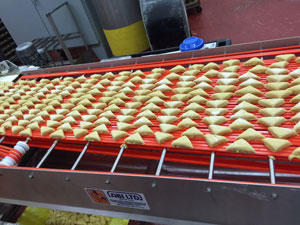 "Before B&N Europe came I was facing a £2million factory extension project as my only solution for growth."
"I would recommend B&N Europe to any food manufacturing business which wants to achieve rapid and sustainable productivity improvement."
Graham Whittle, Managing Director, Whitby Seafoods August 2009